While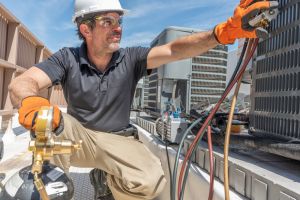 the winters in Northwest Ohio can be cold and snowy, summers can be just as tough to handle, with long stretches of hot and humid weather. No matter what season it is, you need an HVAC system that will keep your home comfortable.
When it comes to keeping your HVAC system running at peak performance, make Hearn your first call. For more than 70 years, we've prided ourselves on our commitment to excellent workmanship and unmatched customer service. Whatever your Chardon HVAC needs may be, Hearn has the experience to get the job done right. 
AC and Furnace Repair Near Me
There are few things that are more frustrating than having trouble with your HVAC system. Whether you're sweltering or freezing, the licensed and insured technicians at Hearn can get your furnace or AC unit back in shape.
When your HVAC system is working properly, you probably don't notice it at all. That's why it's so important to pay attention to any signs of trouble, including:
Strange sounds from your furnace or AC

Surprise jumps in your monthly utility bills

Uneven cooling or heating 

A lack of airflow from your vents

Physical damage to your furnace or AC

Differences between your thermostat settings and the temperature in your home
When one of our technicians comes out to fix any of these issues, you can rest assured that they'll address your system as a whole, so that you can know that the problem will be fixed once and for all.
Most furnaces and air conditioners should last between 15-20 years. Once your equipment reaches that point, the cost of repairs usually outweighs the price of new equipment. We'll help you to make that determination and work with you to get the right replacement installed quickly and efficiently.
HVAC System Maintenance
Hearn is the best place to turn for your AC or furnace tune-up in Chardon. Establishing a regular maintenance schedule is an important part of making sure that your HVAC system will provide you with the heating or cooling that you need, right when you need it.
Every furnace or AC tune-up in Chardon starts off with a complete inspection of your system. We'll look for loose connections and components, as well as parts that are wearing out and need to be replaced. We'll lubricate your system to keep it from seizing up and make sure there are no leaks.
The final step is a thorough cleaning, which eliminates the dust and debris that can interfere with the electronic components that control your furnace or AC, while also limiting the amount of dust and other pollutants that may be in your ducts.
Regular tune-ups allow you to catch small problems before they can become more severe, which extends the lifespan of your equipment while saving you from spending lots of money on expensive repairs. And by keeping your HVAC system running efficiently, you'll end up saving money on your monthly utility bills.
Chardon HVAC Services
At Hearn, we're committed to giving you the best experience possible. Don't spend any more time searching for "AC repair near me" contact Hearn today!