From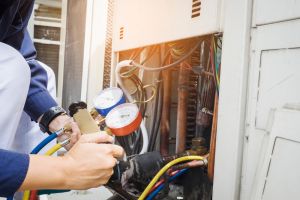 the coldest winter night to the hottest day of summer, your HVAC system works to keep your home comfortable. So when you have problems with your heating or cooling, you need a technician you can trust to find solutions.
Hearn has been the go-to company for Concord HVAC services since 1946. With our record of high-quality work and unbeatable customer service, we've established a reputation as a reliable HVAC contractor. Whether a job is big or small, our technicians have the solutions for your HVAC needs.
Furnace and AC Repair Near Me
When your heating or cooling system starts to act up, you don't want to wait any longer than necessary to get your furnace or AC running again. The experienced technicians at Hearn have seen it all, and they have the training to fix any issue quickly.
There are several ways that you can tell when your HVAC system may need to be repaired. Among the more common signs are:
Lack of air coming from your vents

Signs of corrosion or damage to your equipment

Uneven heating or cooling throughout your home

Unexpectedly high utility bills

Rooms that are warmer or colder than they should be

Odd noises coming from your system
No matter what the problem is, our technicians will make sure that they take care of it, as well as any underlying problems that may have caused the issue in the first place.
Over time, all HVAC equipment will eventually wear out and need to be replaced. The average life expectancy of furnaces and air conditioners are roughly 15 to 20 years, so when your unit reaches that point, it may be time to bite the bullet and install new equipment. Our experts will walk you through the process of selecting a new furnace or AC, and we'll make sure that it gets installed properly.
Annual Maintenance for Your HVAC System
For people looking for a furnace or AC tune-up in Concord, Hearn should be the first place you turn. Our technicians will work with you to establish a regular maintenance schedule so you can be sure that your HVAC system is functioning at its best.
When we perform an AC or furnace tune-up in Concord, we begin by performing a total system inspection. We'll find and replace any worn components and tighten all fasteners and loose electrical connections. We'll also examine your system for any leaks and make sure that your unit is properly lubricated.
Most importantly, we'll clean your HVAC system, eliminating debris and dirt from the sensitive electronics in your equipment, while improving your indoor air quality by removing airborne pollutants.
When you have your HVAC system tuned up regularly, you will actually save money. With a more efficient system, you'll spend less on your monthly utilities, and you'll avoid huge repair bills by catching small problems early.
Concord HVAC Technicians
The team at Hearn is committed to providing our Concord community with high-quality HVAC solutions at reasonable prices. Instead of Googling "furnace repair near me," contact Hearn today to schedule your next HVAC service!