Hearn Plumbing Heating & Air has been serving the Jefferson community for more than 70 years, and we pride ourselves on offering the best quality HVAC services to our customers.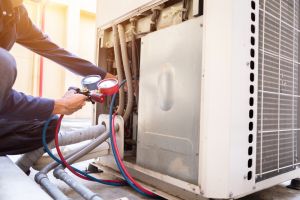 We offer a wide range of professional, affordable Jefferson HVAC services, from air conditioning repair and furnace tune-ups to new installations and quality checks.
What Is HVAC?
HVAC is an acronym that stands for Heating, Ventilation, and Air Conditioning. This industry term includes all components of environmental comfort systems, from outdoor A/C units to the air ducts running through the walls. 
Hearn Plumbing Heating & Air can service any HVAC system components in your home.
Why Choose Hearn Plumbing Heating & Air for HVAC in Jefferson?
The range of services we provide is expansive, and we'll have an expert licensed Jefferson HVAC contractor to your home quickly to remedy any issues you're experiencing with your system. 
With over seven decades of experience to back up our work, you can rest assured that your home is in the best of hands with Hearn Plumbing Heating & Air.
HVAC Services We Provide
When you need your air conditioner, furnace, air ducts, or vents serviced, our technicians will be there. We also perform indoor air quality services.
Heating Services
Our team is highly skilled with all types, brands, and models of heating units. We'll take care of your system by diagnosing and repairing it or replacing it if necessary. 
We'll also come out to perform routine preventative maintenance to keep your system in prime condition.
Air Conditioning Services
Whether your air conditioner is brand-new and needs a routine tune-up or it's been serving you for over a decade and is getting tired, Hearn Plumbing Heating & Air will be happy to maintain or repair it for you. 
It doesn't matter how old it is or what the make or model is! If repair isn't an option, we'll install a new AC unit with a complete guarantee.
Air Quality Services
The key component of any HVAC system is the air that moves through your home. Clean, healthy air is crucial, especially for residents who are elderly, have compromised immune systems, or have issues with allergies or asthma.
Count on us to remedy air quality issues in your home to reduce the risk of allergens, dander, viruses, mold, and bacteria getting into your family's lungs.
Jefferson HVAC Repair, Replacement, and Maintenance
Why spend your valuable time online searching "HVAC near me" when you've already found the best? Hearn Plumbing Heating & Air experts are fully licensed, and we make sure every job is done right. 
We know how important it is to receive prompt attention when you need HVAC services. Our team also understands that HVAC replacement costs can cause anguish, so we offer various financing options to make sure costs never come between you and the best HVAC system for your home.
Hearn Plumbing Heating & Air serves customers in Jefferson, Kirtland, Saybrook, Geneva, Leroy, Perry, Madison, and surrounding areas. Contact us now and let us know what we can do for you.