Whether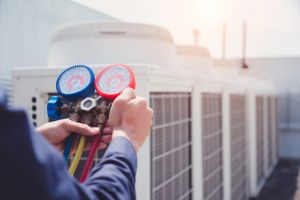 you're trying to keep warm in the winter or stay cool during the summer, your HVAC system is at work almost all year long. That's why it's so important to ensure that you have a reliable heating and cooling technician to keep your HVAC system in top shape.
Since 1946, Hearn has been the go-to company for Kirtland HVAC services. We combine a commitment to top-notch workmanship with a dedication to unbeatable customer service. No matter what the size of the job may be, Hearn will make sure that your HVAC system will keep your home comfortable.
Furnace and AC Repair Near Me
There's nothing worse than going to turn on your heating or cooling system and having nothing happen! When your HVAC system needs to be fixed, you can trust the experienced technicians at Hearn to get things working in no time at all.
There are several indications that your HVAC system is acting up. Here are just a few of the more common signs:
No air coming from ducts

Uneven heating or cooling throughout your home

A sudden increase in your utility bills

Furnace or air conditioner that shows signs of physical damage

Rooms are colder or warmer than expected

Odd sounds coming from HVAC system
Any of these signs is a reason to call in an HVAC technician. We won't just fix the surface problem; we'll make sure to take care of any underlying issues, too.
Of course, even the most well-maintained AC or furnace will need to be replaced eventually. When the cost of repairs is less than the price of a replacement, our experts will help you through the entire process. We'll guide you through choosing the right equipment and will be on hand to get it installed correctly.
Tuning Up Your HVAC System
Your HVAC system needs regular maintenance to work at its best. When it comes to your annual furnace or AC tune-up in Kirtland, let Hearn take care of it.
Our HVAC tune-up includes an inspection of your entire system. During this visit, we'll fix issues like loose connections and replace worn-out parts before they can fail. We also lubricate any components that require it and make sure there are no leaks.
Finally, every AC and furnace tune-up in Kirtland ends with a total system cleaning, which can help to protect the sensitive electronic components in your furnace or air conditioner while limiting the dust and other airborne pollutants that would otherwise lower your indoor air quality. 
With regular preventative maintenance, you'll be able to catch developing issues early, which can prevent them from becoming larger and more expensive problems. Your regular tune-up should help to make your system more efficient, too, which can keep your utility bills more stable over time.
Kirtland HVAC Technicians
You could spend your time Googling, "furnace repair near me." But instead, you should trust the local HVAC expert at Hearn. Contact us today and let our experts handle all of your HVAC needs!