Hearn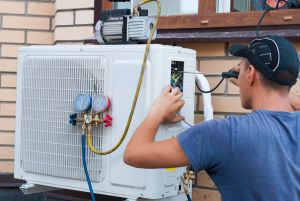 Plumbing Heating & Air is here to keep customers in Painesville, OH, comfortable in their own homes, whether it's the hottest day of the summer, the most frigid day of the winter, or anywhere in between.
We offer high-quality professional HVAC services, including installations, replacements, repairs, and maintenance. No matter which heating or cooling system your home uses, we know how to keep it in perfect working order.
AC and Furnace Tune-Up in Painesville
When was the last time you called an HVAC professional to tune up your home's heating or cooling system? If your answer is anything from "it's been a while" to "what's a tune-up?" then your HVAC system is most likely in need of maintenance.
Scheduling regular tune-ups for your AC unit or furnace won't just help to avoid untimely breakdowns, it will also provide you with the following benefits:
Lower utility bills

Money saved on costly AC or furnace repairs

An efficiently cooled or heated home

A longer lifespan for your HVAC unit
It's a good idea to have your system inspected once a twice a year. A helpful way for homeowners to do their maintenance is to schedule a visit for an AC tune-up in the spring and a furnace tune-up in the fall.
If you're in need of a furnace or AC tune-up in Painesville, the team at Hearn can help! Our expert technicians are trained to handle all types of heating and cooling systems. Regular maintenance will not only prevent future headaches but will also save you both time and money.  
Where Can I Find the Best AC or Furnace Repair Near Me?
That's an easy question:  At Hearn Plumbing Heating & Air, of course! When your heating or cooling system fails, we'll be there to make sure that you aren't left to face extreme temperatures in your home.
We can diagnose and repair issues with any type of cooling or heating system, including the following:
Furnace systems (including gas, propane, and electric systems)

Boiler systems (including oil, gas, propane, electric, radiant, and hot water systems)

Heat pump systems

Ductless mini-split systems

Central air conditioning systems
When you turn to the team at Hearn Plumbing Heating & Air, you'll never have to worry about what to do when your HVAC system experiences an untimely breakdown. You'll never find yourself doing a Google search for "best furnace and AC repair near me" ever again!
Painesville HVAC Services Available 24/7
We offer 24/7 emergency services to make sure that you never get left in the cold or stuck in the heat. Our technicians are ready to handle any HVAC problem that comes their way 24 hours a day, 7 days a week! Give us a call and we'll be over to assess the problem and provide solutions right away.
More Than 70 Years Serving Our Community
Hearn Plumbing Heating & Air has been providing Northeast Ohio with high-quality HVAC services since 1946. Three generations of the Hearn family have proudly led the way, from our founder, David, to his son, Dan, to his grandson, Tom. We offer not only decades of expertise in the HVAC industry, but we also have a family legacy of quality service to the local Painesville community.