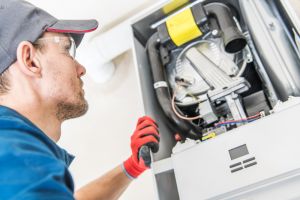 When you need licensed furnace repair in Painesville, Hearn Plumbing, Heating & Air can help. We offer a range of HVAC repair services that can help you keep comfortable throughout the year all while increasing your home's efficiency and indoor air quality. With the right team, tools, and experience to tackle your home's HVAC the right way, we're your local contractor for all of your HVAC needs.
When you're not getting the heating power you need, give us a call! With our furnace repairs in Painesville, OH, we can help get your home's HVAC and furnace repair done right!
Our Furnace Repair Services Can Help!
We understand that it takes a lot to keep your home warm and cozy when the weather turns cold. That's why our furnace repair near you can get you up and running quickly with the heating that you depend on to keep warm.
Understanding your home's furnace both inside and out, we service a variety of makes, models, and styles so that you get the best service to meet your home's heating needs. Below are some of the most common issues we encounter while performing certified furnace repairs in Painesville, OH.
Dirty ductwork

Old or dirty filters

Thermostat issues

Electrical connections
Furnace Filters
When filters become dirty and clogged, it limits the airflow which makes it difficult for your furnace to operate efficiently and correctly. With our furnace repair in Painesville, we help reduce blockage with professional cleaning or replacement.
Ductwork
If your ductwork is poorly installed or aged, it may be leaking air that contributes to a lack of heating or increased energy bills. Tied directly to your furnace, your ductwork can have a large impact on the quality and amount of heating that your home receives.
Thermostats
Thermostats that aren't working how they should make it difficult to keep consistent heating throughout your home. Our HVAC contractors can help you troubleshoot and repair your thermostat so that you can enjoy even heating anywhere within your home.
Electrical Connections
Electrical connections can cause a variety of issues when it comes to your home's heating system. From loose wiring to malfunctioning thermostats, our furnace repair in Painesville, OH, covers it all so that you're always left with safe and reliable heating.
When You Need Certified Furnace Repairs in Painesville, Call Hearn Plumbing, Heating & Air!
While these are just some of the issues you may experience with your furnace, you can trust that your local HVAC experts at Hearn Plumbing, Heating & Air can help. With our experience and passion for quality service, you'll always have a reliable heating and air conditioning company near you that you can call when you need help maintaining a comfortable home.
For more information on our services in Painesville, or to book your furnace repair, give us a call. We're here to help keep you and your home warm, safe, and efficient with quality HVAC services you can trust.