If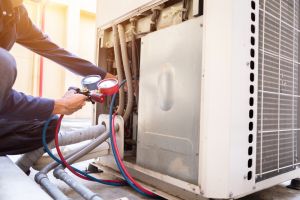 you're in need of high-quality professional HVAC services in Perry, OH, Hearn Plumbing Heating & Air has you covered! We offer installation, maintenance, repair, and replacement services for all types of heating and cooling systems.
Our expert technicians can keep your HVAC system running smoothly and efficiently so that your house stays comfortable and your utility bills stay low.
Perry HVAC Services
We proudly offer our customers in Perry only the best in professional HVAC services, regardless of the type of heating or cooling system that your home uses. The team at Hearn Plumbing Heating & Air is highly trained to tackle any issues.
Here are some of the services we provide. 
Furnace and AC Tune-Up in Perry
Scheduling regular maintenance to your furnace or AC has a wide range of benefits. When you call our expert technicians to ensure that your HVAC system is running as smoothly and efficiently as possible, you can expect to:
Have your home evenly heated or cooled

Save money on your utility bills

Avoid untimely breakdowns

Save money on costly repairs

Extend the overall lifespan of your HVAC unit
Your regularly scheduled AC or furnace tune-up in Perry is the wisest way to keep your heating or cooling system in great condition so you don't have to worry about problems when the weather is at its worst.
And remember: A poorly maintained system has to work harder to stay at your desired temperature. The harder your system works, the higher your bills are going to be. Save yourself time, energy, and money by calling Hearn Plumbing Heating & Air!
Furnace or AC Repair Near Me
When your HVAC system fails, Hearn has your back. Our highly trained technicians know how to handle all types of heating and cooling systems, including ductless mini splits, heat pumps, furnaces, boilers, and central AC units. Whatever system your home may use, we know what it takes to get it back on track.
If you're experiencing any of the following, it's a good idea to call in a professional:
Unusually high energy bills

Inconsistent heating or cooling

Weak airflow from ducts

Unfamiliar sounds coming from the unit

Issues with your pilot light, including a yellow flame

Room temperature that doesn't match the thermostat temperature
Don't bother doing a Google search for "best furnace and AC repair near me" — just give us a call!
Perry HVAC Services, 24/7
Your heating or cooling system isn't going to wait for a convenient time to break down. That's why we offer emergency HVAC services 24 hours a day, 7 days a week. Reach out to us whenever a problem arises, and we'll have a technician over to your home in no time!
Family-Owned and Operated Since 1946
Hearn Plumbing Heating & Air has been a part of the Hearn family for over 70 years. Dan began providing Northeast Ohio with high-quality HVAC service in 1972 when his father brought him into the family business.
Nearly 50 years later, Dan's son, Tom, is now the general manager of Hearn Plumbing Heating & Air, and the family legacy of expert HVAC service continues. When you call us for HVAC services, you'll get the benefits that come with decades of knowledge, experience, and family pride.