You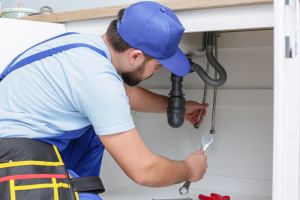 probably don't think much about your home's plumbing as long as you get hot or cold water when you need it. But when your water pressure drops to a trickle, getting your system working right becomes a priority. When you need help with your home's plumbing, you need Hearn Plumbing, Heating & Air.
Since 1946, Hearn has offered plumbing repair in Concord. With our top-quality work and our dedication to customer service, we're proud to provide our customers the plumbing solutions they need to keep their water flowing. When you're looking for a Concord plumber, let Hearn take care of your system.
The Team at Hearn
Our licensed, certified, and insured plumbing technicians are dedicated to providing you the best customer service possible. We'll show up on time, ready to start fixing your plumbing. And with our well-stocked trucks, we have everything we need to get the job done quickly.
Signs of Trouble
While you might think you can repair your plumbing yourself, it's always better to leave the job to the professionals. With their training and expertise, they'll not only get the job done right, but they can make sure there's no other problem just waiting to cause trouble.
These are just some of the more common signs that you need a plumber. If you notice any of them in your home, call Hearn today.
Poor water quality

Low water pressure

Surprisingly high water bill

Strange-smelling water

Leaks, including water stains

Cloudy, discolored, or murky water

Gurgling sounds from your toilet
Plumbing Repair and Installation
No matter the size of the job, the plumbing technicians at Hearn have the experience to get your plumbing system back in top shape, including:
Drain Repair: Don't rely on damaging chemicals to try and clear blockages in your drains. Our experts have the right equipment to get the job done quickly.
Utility Lines: Our technicians can trace and repair most sewer, water, and gas lines, whether buried or aboveground.
Leaks: No matter the size or the location of the leak, our plumbers will find the source and repair your plumbing. We also offer SmartLeak water valves, which automatically shut off the water when they detect leaks.
Backflow Testing: To avoid contaminating the public water supply with wastewater from your home, you need your backflow valves tested regularly.
Sump Pumps: When heavy rains threaten your basement, sump pumps keep the water at bay. If your pump is on its last legs, we'll get it working again.
Appliances: When your dishwasher or refrigerator needs connected to your home's water supply, our technicians will make sure it gets done right.
Water Filtration: If you're concerned about your water quality, call us and we'll help you install and maintain a filtration system.
Concord Plumbing Services
Sure, you could search the internet for a "plumber near me." But with more than 70 years of experience, Hearn knows how to get your system working again. For all of your plumbing needs, make Hearn Plumbing, Heating & Air your first call.