When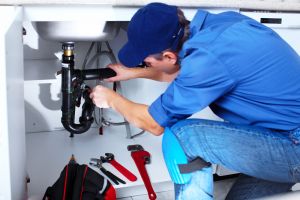 your home's plumbing system is working right, you hardly even notice that you have all the hot or cold water you need for showers, dishes, or a cold, refreshing drink. But when something goes wrong, it can throw your whole life out of whack. That's when you need a trusted Geneva plumber like the ones at Hearn Plumbing, Heating & Air.
For more than 70 years, Hearn has been offering residents in Geneva plumbing services, from repairs to installations. With our extensive experience and our 100% customer satisfaction guarantee, you can rest assured that you'll receive the best plumbing services possible.
Our Team
The expert plumbing technicians at Hearn are all licensed and certified, and they're committed to providing you the best service possible, arriving on time and getting the work done quickly and efficiently. They'll arrive on time in a well-stocked truck, ready to get to work solving your plumbing problems.
Do I Need a Plumber?
While it's obvious that you need plumbing help when you spot a big leak or your water won't turn on, there are some other signs that may point to a more significant issue, from a partially blocked drain to a cracked supply line. You should call Hearn if you notice any of the following:
Odd smells or changes in water clarity or quality

Decreased water pressure

Signs of water damage

Gurgling noises from your toilet or drains

Surprising increase in your water bill
Plumbing Repair and Installation Services
Our experienced plumbing technicians are ready to tackle any trouble they might come across. Here are just some of the services we offer:
Drain Repairs: Whether your drains need to be cleaned or repaired, our technicians will get them running again.
Utility Lines: Our plumbers have the technology to trace and repair your sewer, water, and gas lines, both underground and aboveground.
Leaks: Whether it's a dripping faucet or a mystery spot on your ceiling, we'll find and fix your leaks. We can also install LeakSmart water valves, which detect leaks and can shut off your water in seconds, preventing major disasters.
Backflow Testing: This required testing keeps contaminated wastewater from entering the public water lines.
Appliances: When you need to hook up an appliance like a dishwasher to a water source, leave it to us!
Water Filtration: We can install, maintain, and repair water filtration systems, including water softeners.
Sump Pumps: If you're having trouble keeping your basement dry during heavy rain, it might be your sump pump. We'll make sure your system is in top shape.
Plumbing Repair in Geneva
Now in our third generation of ownership, we've been serving the Geneva community since 1946. We're determined to give our customers the peace of mind of knowing their plumbing system will work when they need it. That's why we're available 24/7, with a live person on the other end.
When your plumbing system is giving you trouble, don't waste time googling "plumber near me." Contact Hearn Plumbing, Heating & Air instead for all your plumbing needs.