You probably don't spend much time thinking about having hot or cold water flowing from your taps. Your toilet working isn't something you think about until it stops. When something does go wrong, you probably need a plumber quickly.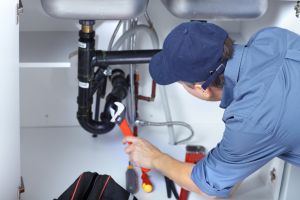 If you are desperately searching for "plumbing services near me" in Jefferson, OH, consider the courteous professionals at Hearn Plumbing Heating & Air. Our services are available 24/7 if you need emergency plumbing services, and we're always happy to help. 
Our Team in Jefferson
Established in 1946, Hearn Plumbing Heating & Air employs only experienced technicians dedicated to complete customer satisfaction. They can tackle any plumbing job, no matter how small or large. 
Furthermore, our plumbers are trained, licensed, certified, and insured to give you the best service possible. Our trucks are fully stocked, so you don't have to wait for us to get a part to finish the plumbing job. 
We Handle Plumbing Repairs 
Our professionals are the best Jefferson, OH, plumbers in the business. We can provide any plumbing solutions you might need. 
Some common signs that you need a plumber include:
A toilet that gurgles 

Unexpected water bill increases

Water pressure that is too low or too high

Water with a strange new odor

Leaks and water stains in your home

Water that looks discolored or murky
If you notice any of these signs, contact our experts. We routinely provide timely solutions to any plumbing issues. 
Tracking and Fixing Leaks
If they aren't repaired, leaks can cause damage to your Jefferson home. Fortunately, we can find and fix any leak (including water, sewer, or gas utility line leaks) no matter where it comes from. 
Sewer Line Repairs 
Sewer line repairs are something you want to be done right. No one is better prepared to tackle this than the plumbers at Hearn Plumbing Heating & Air. 
Pipes That Leak or Need Repairs
If you are having pipe trouble of any kind, our plumbers can find the problem and fix it quickly. If you need whole-house pipe replacement, we can handle that too. 
Clogged Drains and Drain Repair
No matter what kind of drain you are having problems with — dishwasher, sink, tub, shower, clothes washer, or something else — our plumbers can accurately troubleshoot the problem and have things working again quickly. 
We can also unclog, repair, or replace a drain if that's what you need.
Sump Pump Repairs
If your sump pump is frequently running or making odd noises, we can repair it. We can also expertly install a backup or a new pump. 
We Offer Plumbing Installation Services 
Having your appliances installed correctly is important to ensure they last long and work at peak efficiency. Our knowledgeable plumbers can install appliances and systems with ease and efficiency, including:
Dishwashers 

Refrigerator water lines

Ice maker

Water filtration and softener systems 

Washers

Garbage disposals

Water heaters

Smarthome water valves
Our plumbers have the expertise to install appliances and systems of all different makes and models. 
Why go to just any plumber in Jefferson? Next time you find yourself searching the web for "plumbers near me," contact the experts at Hearn Plumbing Heating & Air to see how we can provide excellent service for your plumbing needs.