For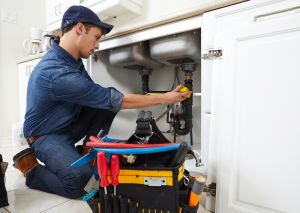 many homeowners, thinking about your home's plumbing system can bring on feelings of stress. From dripping faucets to flooded basements, when you have trouble with your plumbing, it's natural to worry about how you're going to get it fixed. With Hearn Plumbing, Heating & Air, you can put your worries to rest.
Hearn has been your Kirtland plumber for more than 70 years, and over that time we've established ourselves as plumbers you can trust. With our top-quality workmanship and our devotion to customer service, the team at Hearn won't consider our job done until you're completely satisfied with your plumbing.
The Hearn Team
Our plumbing technicians are licensed, certified, and insured, so you can feel good about the work you're receiving. Our plumbers make it a point to get to your home on time, ready to get your system running smoothly.
Problems with Your Plumbing
While your first instinct might be to try and fix the plumbing yourself, but when you trust your system to the professionals at Hearn you can rest assured that you're getting more than just a quick fix. We'll make sure there's no underlying problem-when we fix your plumbing, we fix it for good.
Contact Hearn if you notice any of these symptoms of plumbing trouble:
Low water pressure

A drop in water quality

Strange-smelling water

Leaks, including stains on your ceiling or walls

Increased water bills

Cloudy or discolored water

Gurgling sounds from your drains-including your toilet
Plumbing Repair and Installation Services
The technicians at Hearn are prepared to handle all of your plumbing needs, from the smallest repair to the most complicated installations.
Drain Repair: Instead of using harsh chemicals and wire hangers, leave the job to the professionals. We can unclog your drains without damaging your pipes.
Backflow Testing: Your home is required to have functioning backflow valves, which keep wastewater from entering the public supply. Stay legal with our testing service.
Leaks: No matter where your system is leaking, our technicians can locate and fix the problem. We can also install SmartLeak valves, which detect leaks automatically, shutting your water off to prevent bigger problems.
Utility Lines: Repairing utility lines doesn't necessarily mean digging. Our team can trace and repair buried and aboveground water, gas, and sewer lines.
Sump Pumps: When your sump pump fails, your crawl space or basement can get extremely wet. Let us make sure your pump is up to the task!
Water Filtration: Our plumbers can help you install, maintain, and repair your water filtration system, leaving you with pure, great-tasting water right from your tap.
Appliances: When you need your appliances hooked up to your home's water supply, let us handle the job.
Kirtland Plumbing Services
Now in its third generation, family-owned Hearn remains committed to providing speedy and cost-effective plumbing repair in Kirtland. When you're looking for help dealing with problems in your plumbing system, don't search the internet for a "plumber near me." Instead, contact Hearn Plumbing, Heating & Air today!