Whether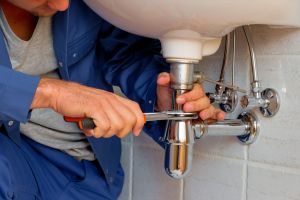 it's a long, hot shower or several loads of laundry, your plumbing system is an integral part of what makes your home function. So when something goes wrong with your plumbing, you shouldn't have to wait to get it fixed. That's why when you need plumbing repair in Mentor, you should make Hearn your first call.
Hearn Plumbing, Heating & Air has been helping Mentor residents with their plumbing repair and installation needs since 1946. Our customers know that with Hearn, they're getting unbeatable craftsmanship from a company that values their time and well-being. And with our 100% customer satisfaction guarantee, you can be sure you'll be happy with the work you receive.
Signs of Trouble
Some plumbing problems are easy to fix, but many times they hide bigger problems. The professionals at Hearn are trained to look beyond the surface trouble to make sure there's not a more significant problem causing the issue. We don't just fix problems; we repair plumbing systems.
Some of the more common signs your plumbing might need our help include:
Declining water quality

Low water pressure-or no water flow at all

Leaks and other signs of water damage

Cloudy, murky water

Gurgling, gulping noises from your drains

Surprisingly high water bills
Plumbing Repair and Installation
With their extensive training, our plumbers know how to handle any repair or installation you can throw at them. These are just some of the services we provide:
Leaks: Whether you're concerned about water dripping from a pipe or a mysterious stain on your bathroom ceiling, our expert plumbers can track down and fix any leaks in your plumbing.                              
Drain Repair: Harsh chemicals and other DIY solutions can damage your drains. Instead, trust your drains to trained professionals with the right equipment.
Utility Lines: No matter whether they're above or below ground, the team at Hearn can find and fix your utility lines, including sewer, gas, and water.
Backflow Testing: Backflow valves help protect the city's water supply from being contaminated by wastewater from homes. Stay in compliance and get your valves tested.
Appliances: From washing machines to refrigerators, let us handle connecting your appliances to your water supply.
Sump Pumps: When your sump pump isn't up to snuff, water can back up into your basement or crawlspace. We'll make sure your pump can get the job done.
Water Filtration: We'll install and service your water filtration system, so your water stays pure.
Our Team
All the plumbers with Hearn are fully licensed and certified, and you can count on them to arrive on time. Our technicians pride themselves on their customer service, and they'll make sure the job is done right before they leave.
Mentor Plumbing Services
For more than 70 years, Hearn has been dedicated to solving Mentor's plumbing issues. So when you need a Mentor plumber, don't waste your time googling "plumber near me." Contact the professionals at Hearn Plumbing, Heating & Air instead, and let us handle all your plumbing needs.