Plumbing issues have a way of making themselves a top priority.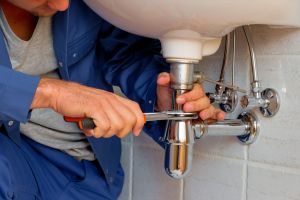 From drain clogs that make your sinks and toilet unusable to leaks that can destroy your walls or floor, issues concerning your plumbing affect your entire home. 
Fortunately for those in Montville, OH, these issues are just temporary inconveniences. With Hearn Plumbing Heating & Air just a call away, you can trust that we will fix the problem fast. 
Since 1946 we've been helping our Northeast Ohio neighbors with their plumbing issues. If you're looking for an experienced local plumber near Montville you can trust, there's just one call to make. 
Plumbing Services 
At Hearn Plumbing Heating & Air, we offer a wide range of services to help keep your home's plumbing healthy. Some of our premier plumbing services include: 
Water heater repair and installation (tank or tankless)

Drain cleaning

Sewer repair 

Leaky pipe repair
No matter how big or small the issue, our experienced and passionate team of plumbing professionals can help if it affects your plumbing. At Hearn Plumbing Heating & Air, we pride ourselves on finding creative and practical plumbing solutions for our Montville neighbors. 
Drain Cleaning
Whether you're dealing with a stubborn clog or looking to prevent one, drain cleaning is the best way to keep your pipes clean and clear. If your home requires drain cleaning services, give us a call! 
All our plumbers are trained and skilled in the latest plumbing technology, so we can offer the most practical and effective solutions to whatever is ailing your drains. 
Sewer Repair
An issue with your sewer line is a big deal. Fortunately, you have the pros in your corner to quickly diagnose and fix the problem. All our plumbers are experienced in sewer services, so we know how to get the job done as swiftly and seamlessly as possible. 
From filing the proper permits to restoring your lawn once the job is done, a sewer repair with Hearn Plumbing Heating & Air is as easy and painless as it gets. 
Plumbing Installation
Plumbing fixtures are only as good as the way they were installed. If you're considering a new plumbing fixture for your home, we're happy to help. We'll make sure your new feature is installed quickly and correctly, from appliance hookups and new faucets or toilets to bigger jobs such as sump pumps and water filtrations systems. 
Plumbing Repair
We know plumbing issues can arise at any time, day or night, which is why we offer emergency services for those times that plumbing problems simply can't wait. If you're experiencing a plumbing emergency in your Montville, OH home, give us a call. We're here to help 24 hours a day, 7 days a week.
Leak Detection
Leaks aren't always obvious. In many cases, you may not know there's a leak until the damage is done. Don't take chances when it comes to leaky pipes. Talk to one of our licensed plumbers today about installing a LeakSmart – Smart Home Water Valve today. 
This handy device can potentially save you big on costly repairs by detecting leaks as soon as they start.
Expert Plumbing Services Near Montville
If you've never worked with us before, prepare to be impressed. It's what we strive for! With our 100% customer satisfaction guarantee as our top priority, you can trust that the job will be done right the first time. Call Hearn Plumbing Heating & Air today or send us a message online to schedule an appointment.