When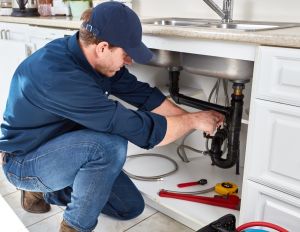 it comes to your home's plumbing system, a lot can go wrong. It's a complicated part of your home's infrastructure, and when it works right, it's great. But when trouble rears its ugly head, you can either ignore it and let it get worse, or you can call in the experts at Hearn Plumbing, Heating & Air.
Hearn has been your Painesville plumber for more than 70 years, and during that time we've established a sterling reputation for both our excellent work and our customer service. And because our work is backed by a 100% satisfaction guarantee, you know we believe in the quality of our craftsmanship.
Your Plumbing System
No matter how confident you are, there's no substitution for the training and experience of a Hearn plumber. Our professional technicians don't just fix the obvious problems; we'll make sure we find the root cause to solve your problem for good.
You should contact Hearn right away if you notice any of these signs you might have issues with your plumbing:
Leaks from faucets, pipes, etc.

Mysterious water stains

Low water pressure

Odd smells coming from your water

An unexpected rise in your water bill

Murky or discolored water

Gurgling sounds from your toilet or drains

Poor water quality
Plumbing Repair Service
The experts at Hearn have seen just about everything when it comes to plumbing. They're prepared to tackle any plumbing issue, whether big or small, including:
Utility Lines: Whether it's a water, sewer, or gas line, our technicians can find and repair all of your utility lines, both underground and above ground.
Drain Repair: One of our most common calls, we can quickly clear your slow or blocked drains.
Leaks: In addition to the more obvious drips, our team is well-versed at finding hidden leaks. We also offer SmartLeak water valves, which can detect leaks and shut your water off quickly.
Backflow Testing: This legally required test will help ensure your wastewater doesn't back up into the public water supply.
Appliances: Installing water lines for your appliances is no problem, whatever the make or the model.
Sump Pumps: When your sump pump fails, it can leave your basement all wet. Contact us to keep your sump pump in peak condition.
Water Filtration: Our technicians can help install, repair, and maintain your water filtration system, so you'll have bottle-quality water whenever you want it.
The Hearn Team
Our certified and licensed plumbing technicians are dedicated to providing our customers the best customer service possible. We'll make sure we arrive when we say we will, ready to get your plumbing system back in shape.
Plumbing Repair in Painesville
For three generations, Hearn has been providing Painesville plumbing services. We remain just as committed as ever to providing you the solutions you need, including responding to your plumbing emergencies 24/7.
Don't spend your time searching the internet for a "plumber near me." Instead, contact Hearn Plumbing, Heating & Air, and we'll make sure you'll have the water you need when you need it.