There's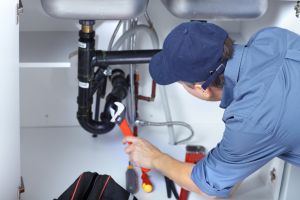 nothing better than a nice, hot shower. That is, until you turn on the tap and find yourself pelted with ice-cold water. When your home's plumbing system goes haywire, you need it fixed fast. Instead of searching the internet for a Perry plumber, call the experts at Hearn Plumbing, Heating & Air to get your system back up and running.
Hearn has provided plumbing repair in Perry since 1946, and three generations later we're still as committed as ever to providing our community top-notch craftsmanship and the best in customer service, and we back that up with our 100% customer satisfaction guarantee.
Hearn's Plumbing Technicians
The plumbers at Hearn are all trained, licensed, and certified. But we also ensure our team members put the customer first. Our technicians will arrive on time, so your home doesn't have to wait any longer than necessary to get your plumbing system working. Many times, we can finish that same day.
Signs You Need Help
While it may be tempting to try and tackle plumbing trouble yourself, you're better off letting the professionals handle the job. They have the training and experience to spot and repair the root causes, so you don't have the same trouble cropping up again and again.
Here are some signs you may have a problem with your plumbing:
Low (or no) water pressure

Water stains or active leaks

A decline in water quality

Strange smelling water

Cloudy, murky, or discolored water

Gulping or gurgling drains (including the toilet)

An increased water bill
Plumbing Repair and Installation
No matter what repair your plumbing system requires, you can count on our technicians to get the job done quickly and efficiently. These are some of our more common repair services:
Leaks: Not all leaks are as obvious as water running down a pipe. Some are more subtle, and our plumbers have the experience to spot them and fix them.
Utility Lines: Whether buried or above ground, we have the technology to trace and repair your utility lines, including sewer, gas, and water.
Drain Repair: We can get your blocked drains running again, and repair any damage that might have caused the problem.
Backflow Testing: These valves keep your home's wastewater from contaminating public supply lines. Testing your backflow valves is a must. 
Water Filtration: We can provide complete care for your water treatment systems, from filters to softeners.
Appliances: When appliances like dishwashers or refrigerators need hooked up to water, you can trust us to get the job done right.
Sump Pumps: Whether your old sump pump has worn out or you need a new system installed, we'll help keep your basement dry.  
Perry Plumbing Services
With more than 70 years of experience serving Perry and the surrounding area, we've built a reputation you can trust. We care about our community, and we're available 24/7 to handle any plumbing emergency. Instead of googling "plumber near me," Contact Hearn Plumbing, Heating & Air today to schedule your next service call.